Allplast BV (NL) is specialised in the design and production of innovative products for personal protection. In order to combat against the corona (COVID-19) virus, we have developed a new type of protection mask (re-useable).
This face mask presents a physical barrier that will protect against splash, spray of fluid and infected droplets. The face mask should be used in any situation when a distance of 1,5 meter between two or more persons cannot be guaranteed, so that a very contagious viral infection will be minimized.
Face Protection – Medical Visor
| | |
| --- | --- |
| Material | Transparent UV Protected Polycarbonate |
| Options | Anti-Scratch, Anti-Static, Anti-Condense Coating |
| Thickness | 0.75 mm |
| Weight | 200gr. |
| Colour | Printed in desired color/pattern/logo's etc. possible (tailor made per >500 Pcs.) |
| Mark | EN166:2001 |
Although Allplast bv believe that the suggestion regarding the possible uses of the presented face mask as well as the other statements in this leaflet/product sheet are accurate and reliable, they are presented without guarantee or responsibility of any kind and are not representation of warranties of us, either express or implied. Information provided herein does not relieve the user from the responsibility of carrying out it's own tests and experiments and the user assumes all risks and liability (Including but not limited to, risks relating to results, patent infringement and health, safety and the environment) for the results obtained by
the use of the products and the suggestion contained herein.

The following should be taken in consideration:
Our Face Protection masks can be used for all kind of applications, where it is difficult to keep the (social) distance of 1,5 meter, to prevent further infection of the virus. The face mask has no (bacteriological) air filter. The Face Protection Mask has been produced in the EU..
Medical purposes:
For medical applications such as dentists, surgeons and/or nurses, medical staff, elderly care, the face mask should be used in combination with an air mask.
Law Enforcement (Police & Defence)
The Face protection Mask can be used by Police officers, Customs staff members and/or Legal services when arresting or investigating suspects or prisoners.
Public domain (Retail & Logistics)
For those jobs where hygiene and personal protection/safety is important, like: taxi drivers,
(pizza)couriers, store personnel/stock clerks and other jobs where it's critical to maintain the social distance of 1,5 meter.
Optical Visor
Our transparent polycarbonate (PC) is a virtually unbreakable mask for the toughest environments. Our optical PC visor has high clarity and good optical performance for applications where good visibility is important. It also has excellent UV protection and temperature performance which gives good fire properties, the material is even self-extinguishing. Our visor has half the weight of glass and 10x more impact resistance then acrylic (PMMA). Our visor complies with the EN 166:2001 standard, which requires standards for eye protection against impact from particles or debris and spray. The visor is 'non- breakable'.
The Face protection Mask, may be cleaned by using a clean soft sponge and washing with lukewarm water containing a mild soap or a slightly acidic, neutral or slightly alkaline detergent. Then rinse thoroughly with clean water and dry with chamois leather or a moist sponge. A subsequent anti-static treatment is recommended.
Suitable cleaning solvents at room temperature are: water, white spirit, hexane, heptane, ethyl alcohol, butyl alcohol, isopropyl alcohol (also known as IPA or Isopropanol).
Disinfection of the visor can be performed using >60% isopropyl alcohol (IPA), ethanol, or any other antibacterial or antiviral cleaning agent suitable for PC, sprayed or applied on a soft cloth, preferably followed by a thorough wash with clean water and rinse as described above.
Treatment with an anti-static agent keeps the sheet free from static charge and dust over prolonged periods. There are some commercially available products which act simultaneously as cleaning agent and anti-static agent, e.g. Burnus Kunststoff-Reiniger + Pfleger.
Chin/neck cover
Nonwoven PP medical spun bond laminated with a hot melt film; weight: 55 g/sqm. The applied laminate is one side absorbing and one side hydrophobic (non-absorbing).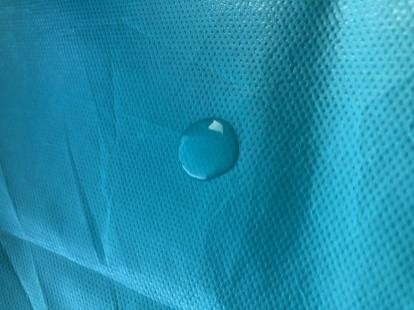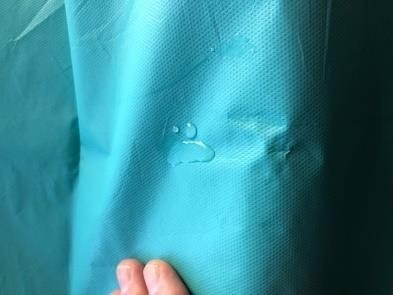 Internal finish soft foam
For the optimal comfort of wearing our Face Protection Mask, a soft PE foam has been used. This foam meets all standards with regard to compressibility (ISO 2439B) and elasticity (ASTMD D3574 H).
Head band: adjustable textile
In order to put the Face Protection Mask on, a very sound elastic band (width: 3,0cm) has been used/attached to wear the mask comfortable.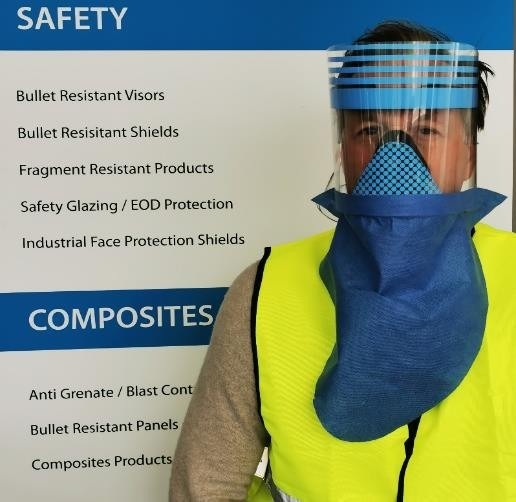 Examples: Law Enfocement – Public Transportation – Logistics